The jewelry box is used to place jewelry, and can be used as collection jewelry, jewelry packaging and jewelry gift box. The color of the jewelry box is usually matched according to the color of the accessories. Gold jewelry, usually with a red or gold jewelry box, or other warm colors are also acceptable. Platinum jewelry, with cool color jewelry box. What are the types of jewelry boxes? What does each part of the jewelry box contain? Now let's tell you how to use the jewelry box.
1.Overview of jewelry box
Every beauty-loving woman will have a batch of baby jewelry that she loves, wearing the right jewelry is like an inaccessible part of a woman's body, whether from the outside or inside will greatly enhance a woman's bright and beautiful index and self-confidence. And a beautiful jewelry box not only allows the beauty of women's babies to find a beautiful home, more reflective of a woman's extraordinary aesthetic and taste, is also an excellent choice for urban women to carry jewelry, embellish the interest of life.
2.the common color of jewelry boxes
Usually according to the color of the ornament to match.
Gold jewelry, usually with wine red or gold jewelry box, or other warm colors can also be. Platinum jewelry, with a cool tone jewelry box.
3. what are the types of jewelry boxes
PU jewelry box
PU jewelry boxes are generally combined with fashionable design elements, in the flavor of the times overflowing with a rich modern atmosphere.
There are generally crocodile leather jewelry boxes, plain leather jewelry boxes, pearl leather jewelry boxes. Such as big S crocodile leather jewelry box, Pandora plain leather jewelry box and binaural pearl leather jewelry box is more representative.
Genuine leather jewelry box
Genuine leather generally uses cowhide, and now there are some more personalized materials, such as horsehide. If you want to collect some precious gold jewelry, or other precious jewelry, most people will choose genuine leather jewelry box, especially for some important gifts, choose the brand genuine leather jewelry box is more popular.
Wooden jewelry box
Wooden jewelry box is relatively simple and elegant, suitable for elegant taste of temperament women use.
Generally, there are mahogany jewelry box, pine jewelry box, crushed wood jewelry box, mahogany jewelry box, ebony jewelry box, the most characteristic is tulip wood products. Liriodendron is walnut wood, because of the slow growth, it has a fine pattern and strong texture.
There are also such as high-gloss lacquer jewelry boxes, hardware jewelry boxes, paper jewelry boxes, etc.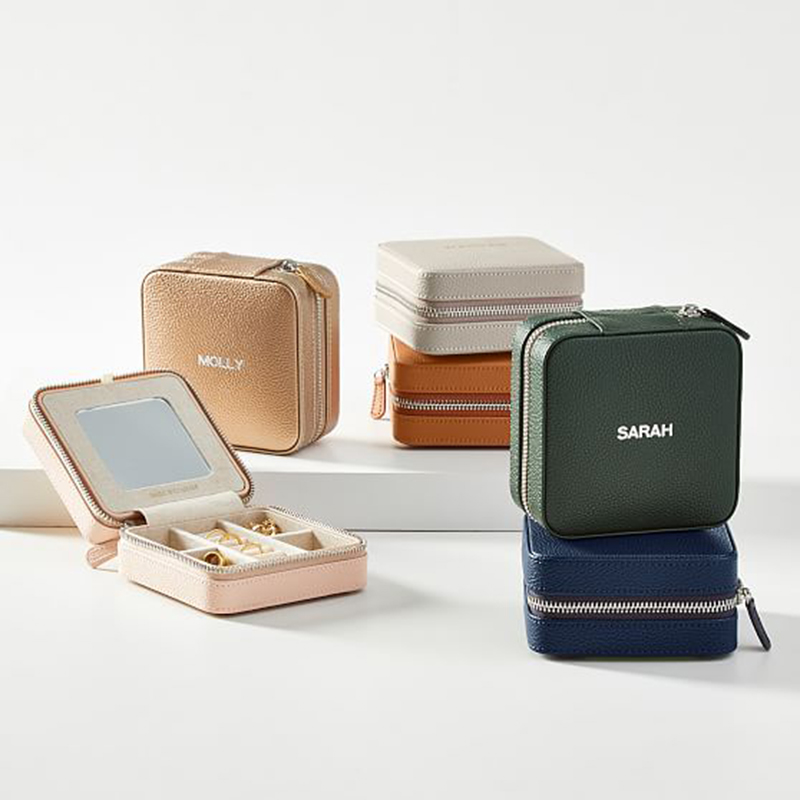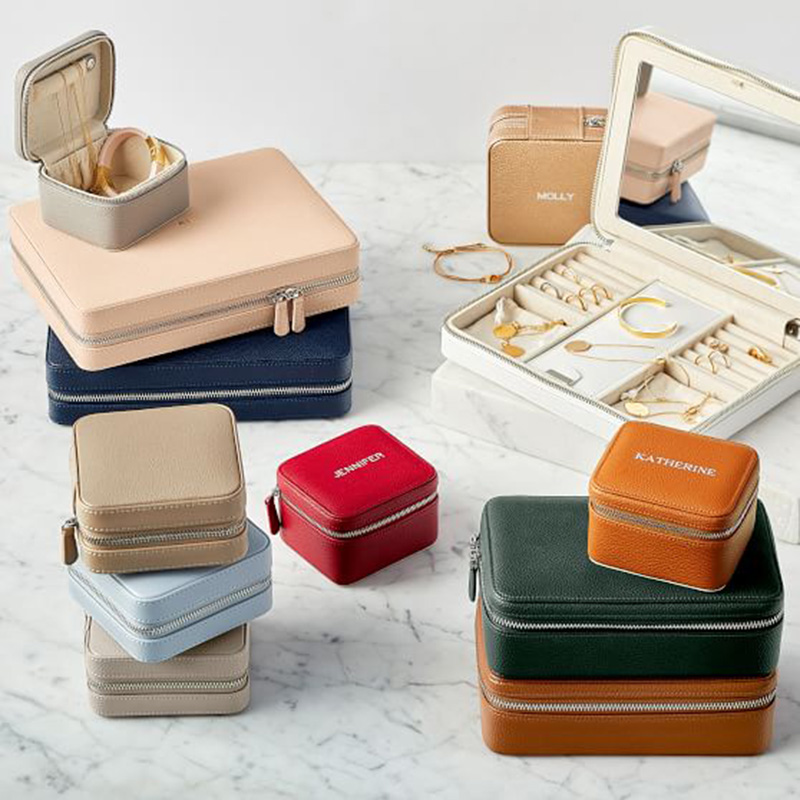 4.the use of jewelry boxes guide
Ring cushion strip
Specially used to fix and protect your precious rings, usually consists of a set of strips of velvet sponge cushion. In addition to placing rings, used to put cufflinks or earrings is also a good choice, white velvet can protect your hands, more care for your baby.
Earring Fixing Hole / Earring Fixing Pads
These pads are used to protect your earrings, and are usually equipped with earring holes in the partitions to hold your earrings, or with earring holders in the box lid, or with removable pads with earring holes in the compartments.
Butterfly card cover pads
Usually there is a piece of fleece with a butterfly card built into a compartment to cover your precious jewelry. The butterfly card can be used as a mere grip or to wrap around your slender necklace to prevent it from sliding around, or to act as a layering device to separate the top and bottom of your trinkets.
Watch Wrap / Bracelet Wrap
Designed to secure and protect your bracelet or watch.
Necklace Hook
Specially used to protect your necklace bracelet, etc., usually in the form of a snap or hook. A concealed pocket with an elasticated opening is usually provided underneath to store dangling necklaces.
Compartments
Various sizes and shapes of cubbies are available to keep your precious jewelry in its own place. Usually the slender design is for necklaces, while the square one is for bracelets, brooches, earrings, hair clips, cufflinks, etc. depending on the size and shade.
Jewelry pouch
The design makes full use of the space in the inner lid or on the side to effectively expand the capacity of your jewelry box. You can hide your favorite pearl necklace inside, or hang a whole row of earrings, it depends on your preference.
Carrying case/travel bag
Carry your favorite selection of jewelry with you.
Carrying handle
Easy to move your jewelry box around.
Mirror
Convenient for you to check your jewelry wearing condition.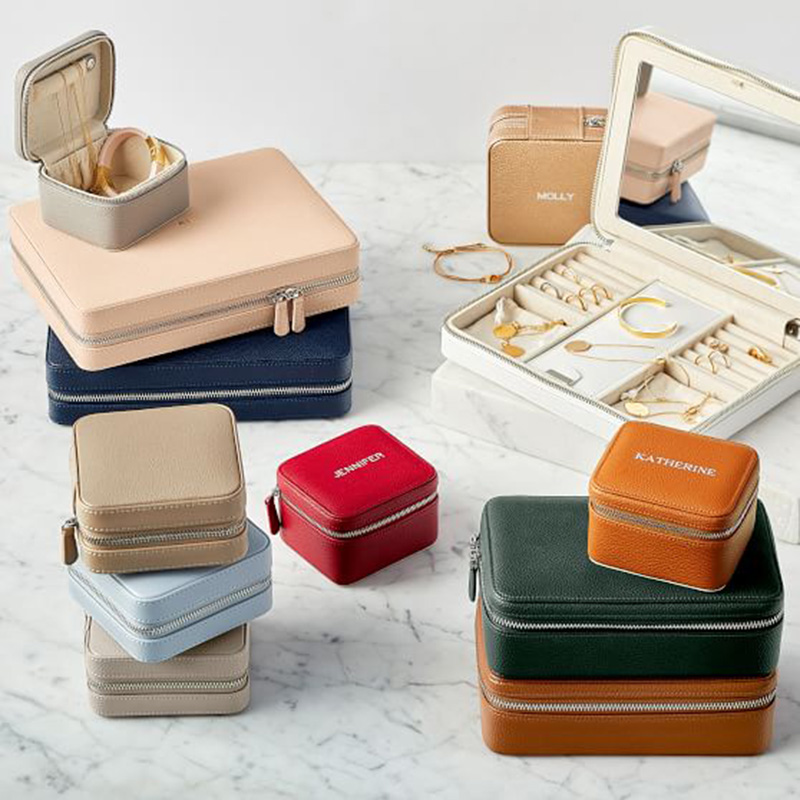 5.gold jewelry box inside the function of the wire
Positioning: jewelry will not run around inside.
Protect jewelry: especially gold and silver, the chemical nature of iron is more active than gold and silver, so the oxidation of iron first, gold and silver will not react.
---
Post time: Oct-20-2022