Many people find that some jewelry will become discolored after being placed for a long time, such as darkening and reddening, which affects the beauty of wearing.
If you don't want your jewelry to become scrap metal, choosing the right jewelry box is also very critical, so you choose the right jewelry box?
To choose a jewelry box, there are three main aspects to consider, appearance, structure and usage.
01 Appearance
Modern minimalist jewelry box
Modern jewelry boxes are lighter and simpler than traditional trousseau, and the materials used are more suitable for placing jewelry. They also come in a variety of design styles. Pragmatists may like such plastic jewelry boxes, which have a simple layout and are easy to sort, so you can see where to put your jewelry. And they don't get dirty easily.
02 Structure
When choosing a jewelry box of your preferred style, you should also take into account the internal structure of the jewelry box. In fact, many jewelry boxes nowadays have been designed with a special place for various types of jewelry, so you only need to choose the box according to your existing jewelry.
03Use
-Portable jewelry box
Travel or travel with it to fill the daily replacement jewelry can not be more appropriate. It takes up little space, easy to carry, and the internal compartments are divided according to jewelry categories to avoid cluttered placement of different jewelry, and the shape is small and cute.
-Jewelry tray
Jewelry tray exists mainly for convenience, some of the jewelry worn every day, such as earrings, brooches, etc. can be taken and put.
But most of the jewelry plate material is metal, take care when using jewelry to hold lightly to avoid unnecessary losses.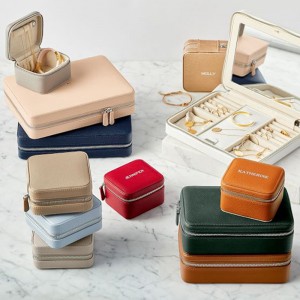 Jewelry maintenance has a lot of attention, storage storage is only one of the steps, if the jewelry has yellow and black, you can come to Pearl River pawn shop free cleaning identification.
---
Post time: Nov-11-2022